Op/Ed by Chris Devonshire-Ellis  Middle-East & North Africa's Five Primary BRI Projects  Region has 60% Oil and 45% Global Reserves  US$10 billion Construction Projects Proceeding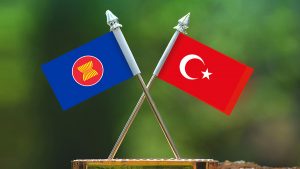 Turkey is seeking to forge closer ties with ASEAN and Asia through its Asia Anew initiative which was launched in late 2019. The Turkish government is keen to point that the Asia Anew initiative does not constitute an axis shift in its foreign policy, but a way to diversify its economic partnerships.
Op/Ed by Chris Devonshire-Ellis  The China-Kyrgyzstan-Uzbekistan Rail Corridor back on the agenda Issues over routing and cost Would connect China with the Middle East Awaiting political reforms and new Government in Kyrgyzstan   A long held dream along the Silk Road both old and new has been a railway that links China to Central Asia and […]
Op/Ed by Chris Devonshire-Ellis Nakhchivan Corridor will eventually compete with the BTK railway Georgia will lose its transit fees monopoly Turkey growing increasingly influential in the South Caucasus
Trade Wars & Global Risk Lead Chinese & Asian Investment Into Arabia The Middle East region is set to witness further interest and investment from China and Far East Asia, mainly in the infrastructure and logistics sector as the belt and road (BRI) scheme further expands into the region, according to Savills, the real estate […]
India's state-owned Container Corporation of India (Concor) and Russian Railways Logistics Joint Stock Company (RZD) have signed a Memorandum of Understanding to transport cargo between India and Russia – based on a single invoice – via the International North-South Transport Corridor (INSTC), a 7,200-km multi-modal transportation network project cutting right across Central Asia, starting in […]
Coup for China in Middle Eastern BRI Promotions Annual Investment Meeting (AIM), the Dubai based investment platform, and China Venture Capital Research Institute (CVCRI) have signed a memorandum of understanding (MoU) for a long-term strategic partnership to share resources and to boost investment opportunities within the Belt and Road Initiative (BRI). The MoU was signed […]
Opportunities For Russian Businesses To Take Advantage Of The African Continental Free Trade Agreement The Russian industrial zone currently being built at Port Said in Egypt will help Russian businesses enter new and under-penetrated markets, according to the Russian Export Center.
Op/Ed by Chris Devonshire-Ellis Russia & Turkeys Gradual Pivot To Asian Institutionalization Will Improve Trade Prospects Bilateral trade between Russia and Turkey is under-exploited and "should be US$100 billion per annum" according to Rushkar Pekcan, Turkey's Foreign Trade Minister, speaking at the Russia-Turkey Joint Economic Commission held last week at the Turkish resort of Antalya.
Op/Ed by Chris Devonshire-Ellis China's involvement with the Middle East – including the countries of Bahrain, Cyprus, Egypt, Iran, Iraq, Israel, Jordan, Kuwait, Lebanon, Oman, Palestine, Qatar, Saudi Arabia, Syria, Turkey, the UAE and Yemen comprises a huge and diverse area split across continental lines, religions, and trade blocs. All have signed MoU with China's […]
Showing 10 of 395 articles