Russia's EAEU Discusses Egypt, UAE Free Trade Zones
The Eurasian Economic Union (EAEU) is actively negotiating with Egypt and the United Arab Emirates to create a free trade area, according to announcements made early last week by Maxim Reshetnikov, Russia's Minister of Economic Development. He was speaking at the Annual Investment Forum (Annual Investment Meeting, AIM) in Abu Dhabi.
Reshetnikov stated that ''The EAEU has a valid temporary agreement leading to the formation of a free trade zone with Iran. Negotiations with Egypt and the United Arab Emirates are also active''
According to the minister, the creation of a free trade zone is necessary to strengthen trade relations with the Middle East region, as well as to build production and logistics chains. We expect that the implementation of these agreements will not only reduce the costs of our exporters, but also build new preferential ties and strengthen our integration processes in the Middle East, he stressed.
The EAEU includes Armenia, Belarus, Kazakhstan, Krygyzstan, and Russia. It has a GDP of about US$2.8 trillion and a consumer market of about 187 million.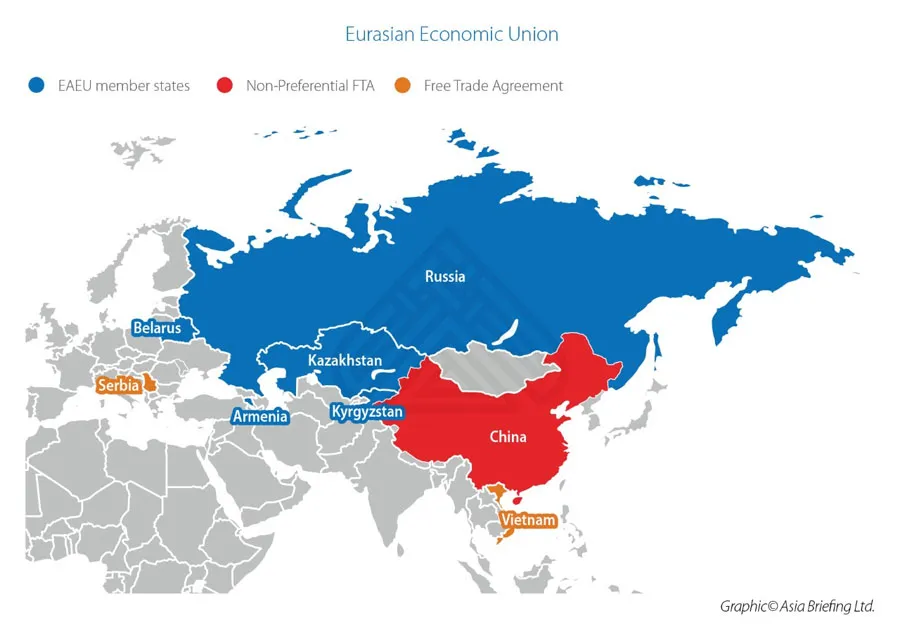 Reshetnikov also said that Russia is seeking to expand the geography of agreements. Thus, in December 2022, consultations began with the UAE on concluding an agreement on free trade in services and investment in a bilateral format. Reshetnikov recalled that agreements on the promotion and mutual protection of investments are already in force with 13 countries of the Middle East. Russia is currently working to conclude such agreements with Saudi Arabia, Morocco and Iraq, he added.
Russia, as Reshetnikov noted, is interested in cooperation with the Middle East in many areas, including in the field of industry, agriculture, information technology, as well as nuclear and green energy.
Source: Ritmeurasia.org
Russian businesses interested in investing in the Middle East may contact Maria Kotova at Dezan Shira & Associates Dubai office: dubai@dezshira.com
Related Reading
About Us
Middle East Briefing is produced by Dezan Shira & Associates. We provide foreign investment market intelligence about doing business in the region as well as provide updates on investments into Asia for Middle eastern based international companies from our offices in Dubai. Our firm was established in 1992 and has 28 offices and several hundred research, legal, tax and compliance professionals in our offices through the Asian region.
For assistance with establishing business in the Middle East, or for assistance in analyzing and entering markets elsewhere in Asia, please contact us at dubai@dezshira.com or visit us at www.dezshira.com.