Bilateral Trade and Investment Between Saudi Arabia & India, 2023/24 Situation and Prospects
By Farzad Ramezani Bonesh
Introduction
After the independence of India in 1947, diplomatic relations between New Delhi and Riyadh were established. Although the relations were not close until the early 1990s, various causes strengthened the motivations in relationships. King Abdullah bin Abdulaziz Al Saud's visit to India in January 2006 was a milestone in increasing economic, investment, and technical cooperation between the two countries and signing 15 agreements.
In recent years, we have witnessed the visits of senior officials such as the Crown Prince of Saudi Arabia and the Prime Minister of India from each other's countries. The formation of the Strategic Partnership Council (SPC) between the two countries in October 2019 is another important step in promoting relations.
The expansion of high-level meetings by officials and leaders of both countries is very important in business development. Political geopolitics and security factors play a role in Riyadh's attention to trade with India. Now the changes are such that Saudi Arabia is not willing to sacrifice its economic interests in expanding relations with India for the interests of Pakistan.
In New Delhi's foreign policy, India's desire to play a more powerful global role, compete with China and fill the void of the United States in the Middle East has led to India paying more attention to the growth of relations with Riyadh.
Reducing the differences between India and Saudi Arabia on issues such as Kashmir, the India-Pakistan tension, Afghanistan, and Islamic extremism, are also important for the development of trade relations between the two sides.
Multilateral trade
Energy
India's energy needs are still increasing, and attracting investment to develop energy infrastructure is also part of India's important steps.
Even if India can obtain about two-thirds of its new energy consumption from renewable energies, the energy sector still plays an important role in trade relations between India and Saudi Arabia. At present, New Delhi respectively imports about 18 – 22 % of its crude oil and LPG from Saudi Arabia.
Saudi Arabia plays an important role in the import, energy security, and strategic oil reserves program of the second-largest economy in Asia. Riyadh considers New Delhi to be a basic and key buyer of oil and has many plans in the energy sector in coordination with India.
India wants to earn 40% of its needed energy from renewable and non-fossil sources by 2030. Therefore, since the establishment of the Joint Strategic Cooperation Council of India and Saudi Arabia in 2019, they have signed a series of agreements in the field of energy, and renewable energy. Also, the investments of Saudi companies such as Alfanar and Aljomaih in wind and solar energy projects in India and the investigation of new energy and hydrogen energy as an energy source are on the path of cooperation between the two countries.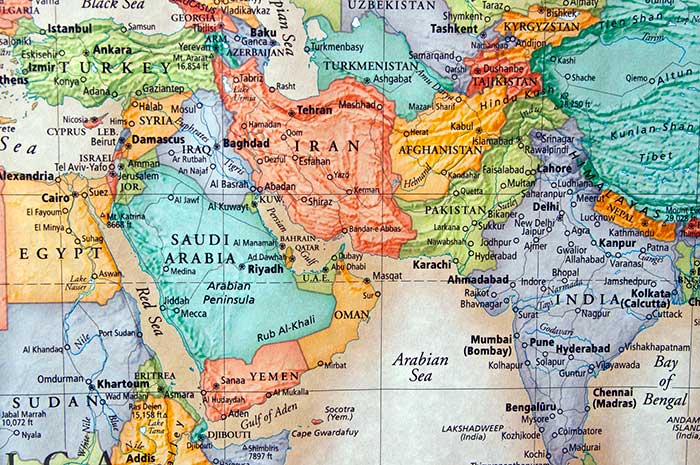 Expansion of investments
India recently witnessed a sharp growth in foreign direct investment inflows of US$83 billion. India's important and effective variables such as appropriate growth, the most populous country in the world, the world's fifth largest economy, approaching a US$5 trillion economy, technological advances, a large startup infrastructure, complete lack of dependence on a specific industry, a major exporter of labor, and so on have led to Riyadh to pay more attention to India's investment platforms.
During his visit to India in February 2019, Saudi Arabia's Crown Prince Mohammed bin Salman announced that the kingdom would invest US$100 billion into the country. Today, Saudi Arabia is one of the more important investors in India with an investment of about US$3-5 billion.
Saudi Arabia's main and important investments in India include a refinery and petrochemical project in Maharashtra worth US$44 billion in partnership with Saudi Aramco. The billion-dollar investments of Public Investment Fund (PIF), in Reliance Jio Platforms and Reliance Retail Ventures Limited, and also SABIC's US$100 million investment in an innovation center in Bengaluru in India, are all important.
Riyadh has also paid more attention to India's potential with economic reform programs and oil economy diversification, asset diversification, "Vision 2030", and turning Aramco into "the world's largest sovereign wealth fund". India's position in the vision of 2030 is prominent.
India's investment in the Saudi economy is about US2 billion with strong growth. About 750 Indian companies are registered in Saudi Arabia.
A number of major Indian companies operating like (L&T), (TCS), (TCS), Tata Motors, Air India, Jet Airvis, State Bank of India, are involved in tourism, housing, information technology, management services sectors and consulting, construction projects, pharmaceuticals, implementation of the world's largest solar project, are all present in Saudi Arabia.
Food security
India has taken action and established organizations with emerging challenges such as climate change and food security. India is an agricultural country, becoming a global bridge in the global supply chain and an important partner of Saudi Arabia to ensure food security. Also, the cooperation between the two countries in the field of food security, and the joint working group on agriculture and food security has increased.
Technology and other fields
With leading digital infrastructure, nearly 75,000 startups, and emerging technologies, India has signed a series of digital agreements with Riyadh. Increasing cooperation between the two countries in the field of information and communication technology, emerging technologies such as artificial intelligence, and investment in several Indian startups are other parts of the business.
India's assistance in the field of information technology, the establishment of an innovation center in Riyadh, the presentation of innovative projects, and the development of innovation centers in the field of industry are also important.
In addition, other memorandums of understanding on identifying investment opportunities for industrial and service activities, development of the automobile industry, and pharmaceutical marketing of India in Saudi Arabia are intended to attract more investments and diversity to bilateral trade between India and Saudi Arabia.
In fact, Saudi Arabia's 2030 vision and its plans are very much aligned with India's potential and initiatives such as Make in India, India Startup, Smart Cities, and Digital India.
Riyadh has a positive view of India's ability in the field of sustainable infrastructure for the sectors of culture, tourism, entertainment, and sports. In addition, India's assistance in the field of mining and the signing of several memorandums of understanding for the supply of Saudi products such as phosphate and ammonia, aluminum ore, and bauxite has helped the growth of trade in this area.
About 2.5 million Indians work in Saudi Arabia, the largest community of foreign workers in the country. Simplifying the migration process of workers, increasing the number of Indian workers' remittances from the Indian diaspora (US$8 billion annually) are playing an important role in increasing the Indian economy. Also, the expansion of bilateral trade with India is being pursued by Saudi Arabia in the framework of the GCC-India conference by signing an agreement to strengthen and develop economic cooperation and following the FTA.
In addition, the possibility of establishing trade exchanges with Saudi Arabia in two local currencies (Rupees and Rials), is being discussed as part of efforts to strengthen economic relations between the two countries. In addition, strengthening cooperation in the field of defence production, space programs, the proposed India-Middle East-Europe corridor, securing the safe transit of goods, maritime communication with the Middle East, etc. can help strengthen business relations.
Expanding the volume of business
In the fiscal year 2021-2022, the value of bilateral trade was US$42.8 billion. India's imports from Saudi Arabia reached US$34.01 billion dollars while its exports to Saudi Arabia reached US$8.76 billion dollars, an increase of 49.5% compared to the previous fiscal year (2020-21).
According to other sources, in 2022, the trade between India and Saudi Arabia increased and reached the mark of US$67 billion. India's imports from Saudi Arabia doubled in 2022 and exports to Saudi Arabia also increased. Major imports to India from Saudi Arabia include fuels and mineral oils, chemical fertilizers, organic chemicals, plastics and products, inorganic chemicals, miscellaneous chemical products, and aluminum and products.
India's major exports to Saudi Arabia include mineral fuels and oil, grains, vehicles other than trams or railways, organic chemicals, machinery, mechanical equipment, etc., and electrical machinery and equipment.
Future prospects of Saudi-Indo trade
Saudi Arabia's US$100 billion investment plan in India in agriculture and food security, energy technology and information technology, industry and infrastructure, digital fintech, liquefied natural gas (LNG) infrastructure and the creation of strategic oil storage facilities in India, are not fully completed.
Challenges such as unfavorable geopolitical developments, and economic uncertainties such as the possibility of recession and adjustment of global demand may affect the prospects of cooperation between the two countries in the short and long term.
However, bilateral economic relations have turned into a diverse business cooperation, and the Economic and Investment Committee is one of the two main pillars of cooperation. Despite India's trade deficit in its trade with Saudi Arabia, India can still benefit and contribute greatly to Saudi Arabia's modernization of socio-economic reforms.
Indian trade promotion organizations are eager to work with Saudi organizations to harness the complementary strengths of both countries. Any initiation of rupee-riyal trade, diversification, and expansion of trade, clarifying the status of the free trade agreement with the Gulf Cooperation Council, solving legal problems, etc., can create new opportunities in the expansion of trade.
In fact, it should be said that in the short and medium term, energy will be the driving force behind India-Saudi relations. The expansion of trade to other areas and win-win cooperations will expand relations in the future and help New Delhi to implement its plans to become the third largest economy in the world by 2027 and assist Saudi Arabia in its 'Vision 2030'.
Dezan Shira & Associates assist foreign investors into India and have a partner firm in Saudi Arabia. For assistance please contact india@dezshira.com  
Related Reading
About Us
Middle East Briefing is produced by Dezan Shira & Associates. We provide foreign investment market intelligence about doing business in the region as well as provide updates on investments into Asia for Middle eastern based international companies from our offices in Dubai. Our firm was established in 1992 and has 28 offices and several hundred research, legal, tax and compliance professionals in our offices through the Asian region.
For assistance with establishing business in the Middle East, or for assistance in analyzing and entering markets elsewhere in Asia, please contact us at dubai@dezshira.com or visit us at www.dezshira.com.