Selling To China's Muslims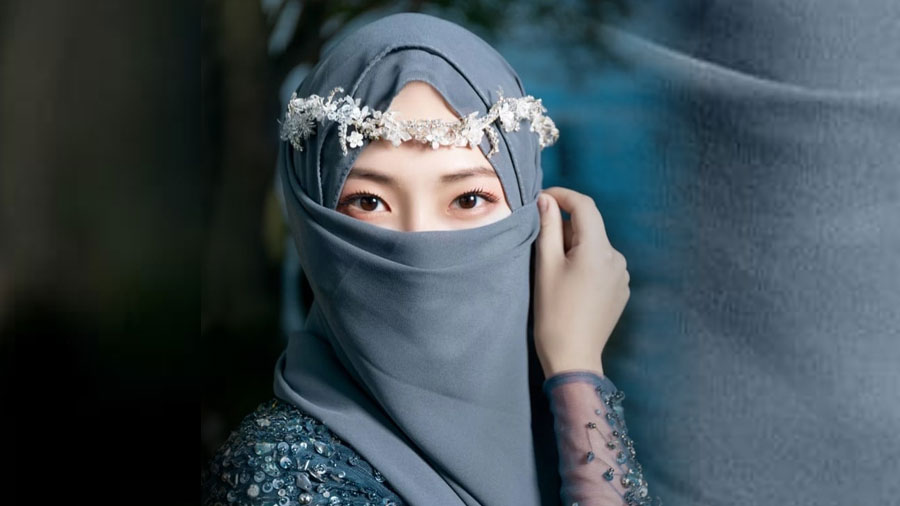 China represents a market of 30 million Muslims providing opportunities for Middle Eastern based exporters in a market worth US$100 billion. 
In China, the Muslim population is estimated to be around 30 million, covering urban and rural areas of all provinces (regions) in China. These are mainly based for historic reasons in China's Western provinces of Xinjiang, Ningxia, Gansu, Qinghai, Shaanxi, Henan, Hebei, Yunnan, Shandong, and Shanxi and are descendants of old Silk Road traders.
Significant Muslim populations have also built up in Anhui, Beijing, Shanghai and Tianjin.
Geographical Spread and Consumption Preferences
According to Chinese government records, there are 10 ethnic minorities in China which are predominantly Muslim. These are the Hui (48% of the officially tabulated Muslim population), Uygur (41%), Kazakh (6,1%), Dongxiang (2.5%), the Kyrgyz, Uzbeks, Salar, Tajik, Bonan, and Tatar groups. Most Muslims in China are Sunni's.
While the Uyghur, Kazak, Kirgiz, Uzbek, Tajik, and Tatar ethnic communities are mainly distributed in Xinjiang, the Hui, Dongxiang, Salar, and Bonan ethnic groups are mainly distributed in Gansu, Ningxia, and Qinghai provinces. These 10 ethnic minority groups make up about 20 percent of the total ethnic minority base in China.
Besides the majority Muslim Uyghurs in Xinjiang, the Hui community live primarily in three provinces – Ningxia, Gansu, and Qinghai.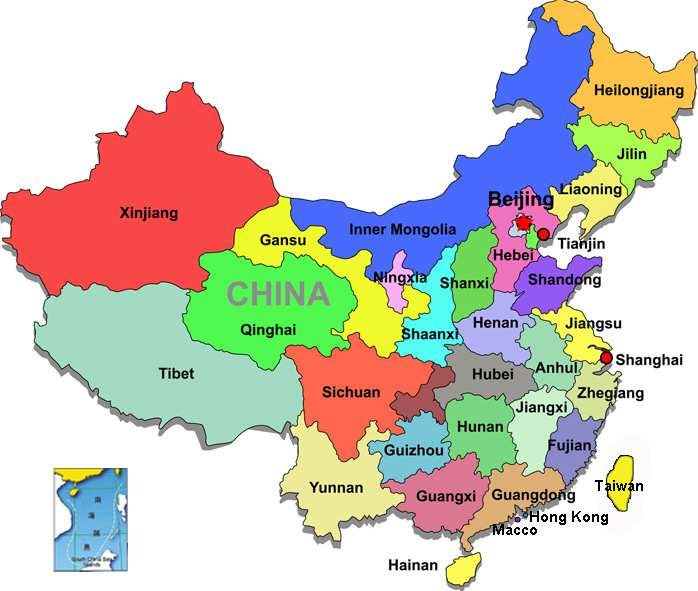 Traditional Muslim consumption habits in Chinese communities like the Hui are centered around the core principle of 'halal', which focuses on the protection of people's physical and mental health and avoiding food regarded as unclean and unhealthy in Islam. Ecological and environment friendly consumption is promoted.
Market Prospects – China's Muslim Consumer Base
China's Muslim communities are an important market for halal commerce and trade. Halal, or 'permitted' in Arabic and 'Qingzhen' (清真) in Chinese, defines the suitability of a particular product for consumption under Shariah law. Halal products should be compliant with guidelines for purity and hygiene and should not contain any derivatives of pork (which may be present in gelatin and emulsifiers) or alcohol. In the case of meat products, animals must be slaughtered according to procedures under Islamic law.
Within China there is no unified national standard for halal certification, but there are various local regulations that contain relevant provisions. (See our article here on halal certification and relevant rules.)
In general, China's halal food industry is in a stage of rapid growth with promising development prospects. It is estimated that by early 2023, the market size of China's halal food industry will reach 380 billion Dirhams (US$103 billion). This is because while the Muslim population only eat halal food and prefer buying products with halal certification, non-Muslim consumers are not excluded from halal products. For certain products, such as milk, it is accepted throughout China that those with halal certification represent a higher quality standard.
However, it must be noted that while the concept of halal is not limited to food products, China only recognizes halal as applied to foods of meat, milk, and edible oil. The Chinese government has forbidden the "expansion of halal to other fields outside the field of food".
Yet, according to Islamic law, and as is the case internationally, the principles of halal apply to all kind of consumer goods and services, including food, cosmetics, banking and finance, travel, and pharmaceuticals, among others.
This gap creates opportunities for the export of halal products and services targeting Chinese Muslim consumers, and the general Chinese market – if they meet the respective Chinese national and local regulatory and technical standards. For instance, China has enforced new rules on import and export food safety from January 1, 2022. The new rules detail customs requirements on overseas food safety assessment and inspection, registration and filing of importers and exporters, product labeling, and food safety risk management. See our article here for more information.
China's Halal and Muslim Food Markets
Xinjiang and the popularity of its cuisine 
Xinjiang (officially, Xinjiang Uyghur Autonomous Region (XUAR)) is the biggest market for halal food in China, as the province hosts a large Muslim population. There are about 12 million ethnic Uyghurs resident in this province, most of practice Islam.
Xinjiang dominates China's halal food industry by sales revenue (17.06%) followed by Henan (14.24%) and Ningxia (6.65%). In the last decade, the halal food industry in China has gradually expanded across the country, with the traditional Uyghur enclave at the center of its growth. This is witnessed in the branding, characterization, and development of restaurant and catering businesses across the country. For example, Shanghai hosts a weekly Muslim market where residents can experience Uyghur culture and get a taste of Xinjiang cuisine. There are two thousand Muslim restaurants in Shanghai alone, ranging from small one-room operators to grander establishments. Xinjiang cuisine is popular throughout the country.
The Henan Halal Industrial Cluster
Besides the Uyghur community, Henan province is a major halal food center – covering production, consumption, and logistics. There were more than 47,500 halal food businesses in the province in 2019, including more than 1,000 halal food enterprises of size and above designated size (that is, those with an annual main business income of RMB 20 million (US$2.9 million) and above), and more than 10,000 catering restaurants.
The Henan halal industrial cluster consists of halal grain and oil, halal meat products, halal dairy products, halal condiments, halal baked goods, and halal catering.
Accessing Chinese Treaty Advantages
China maintains close trade ties with several countries that have large, if not majority, Muslim populations. Our graphic explains: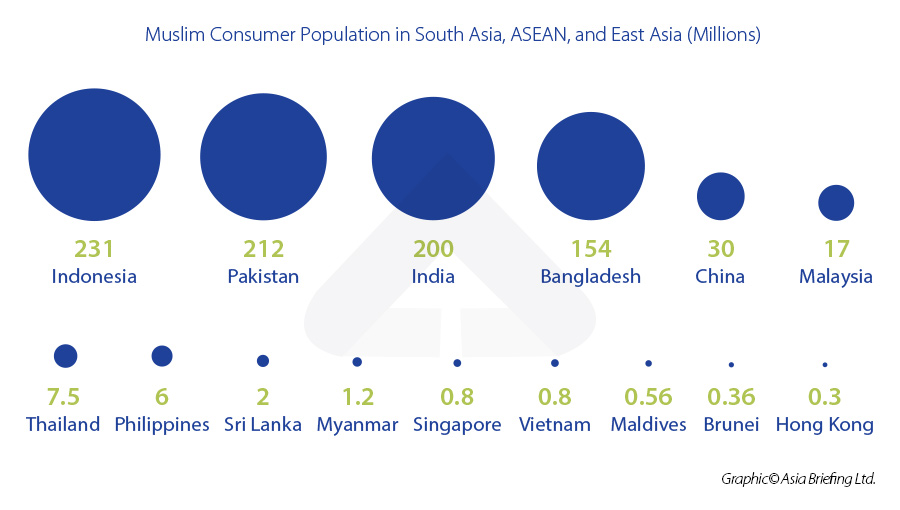 This is significant as it means that other Muslim and Halal products may be imported into China from alternative suppliers, creating a competitive purchasing environment.
China also has an extensive network of treaties to support its trade, investment, and economic partnerships. China has double taxation agreements (DTAs) with nine countries in the Middle East dating back to the early 1990s. These include all countries in the Gulf Cooperation Council (GCC) – comprised of Bahrain, Kuwait, Oman, Qatar, Saudi Arabia, and the UAE as well as ASEAN countries such as Indonesia and Malaysia. These can be useful in permitting the use of trademarks as chargeable expenses against profits in China, although such provisions need to be built into contractual agreements. Professional advise should be taken.
China has also signed bilateral investment treaties (BITs) with 12 countries in the Middle East, including all GCC countries.
While China has a Free Trade Agreement (FTA) with ASEAN and is part of the Regional Comprehensive Economic Partnership (RCEP) – which covers Southeast Asian Muslim dominated countries like Indonesia and Malaysia, it does not currently have an FTA with any country in the Middle East. Negotiations for a trade deal with the GCC are ongoing.
That said, the member countries of the World Trade Organisation (WTO), such as UAE, Qatar, Saudi Arabia, and Egypt, will benefit from the relevant trade and investment protections like the most-favored-nation (MFN) clause. Read here for our article on the tax, investment and trade agreements with countries in the Middle East and North Africa (MENA) region and China. For information on the tax, investment and trade agreements with countries in the Middle East and North Africa (MENA) region and Hong Kong, see here.
Hong Kong is in close proximity to mainland China, is a traditionally prominent financial hub in Asia, with low tax rates and a transparent legal and highly developed financial system. Businesses looking for a gateway to access mainland China often seek out Hong Kong's advantages, for example, to set up a holding company.
On the other hand, it is relatively simple to establish 100% foreign owned trading companies in China and these can have an import-export license. Professional advise should be obtained before establishment to ensure all the required licenses are obtained as each incorporation varies in Chian depending upon its scope of business.
Halal export businesses in the Middle East may contact us for China market intelligence and other professional services, such as import-export company establishment in China (and the rest of Asia). Please contact china@dezshira.com or view our China business guide below. Our regional Dubai office may also assist: dubai@dezshira.com
Related Reading
About Us
Middle East Briefing is produced by Dezan Shira & Associates. We provide foreign investment market intelligence about doing business in the region as well as provide updates on investments into Asia for Middle eastern based international companies from our offices in Dubai. Our firm was established in 1992 and has 28 offices and several hundred research, legal, tax and compliance professionals in our offices through the Asian region.
For assistance with establishing business in the Middle East, or for assistance in analyzing and entering markets elsewhere in Asia, please contact us at dubai@dezshira.com or visit us at www.dezshira.com.