Syria and Russia: The 2023-24 Trade and Investment Dynamics
By Michael Barantschik
As we move through 2023 and into 2024, the trade and investment dynamics between Russia and Syria are witnessing a substantial shift. Russia, facing persistent Western sanctions, is pivoting towards strengthening its trade relationships within the Middle East, with Syria emerging as a key partner.
For Syria, embattled by years of conflict and in desperate need of rebuilding, Russian investment and trade are vital lifelines. For Russia, Syria is not only a significant export destination but also a strategic ally in its broader Middle Eastern strategy. The growing trade figures and investment projects, especially in infrastructure and energy, point to a strengthening economic alliance. This alignment is set against a backdrop of global realignments, with Russia actively looking to bolster its economic presence in regions beyond the immediate reach of Western influence.
Historical Context and Evolution of Bilateral Relations
Established in 1944, ties between the two countries have developed through mutual strategic interests. Russia, which inherited the Soviet Union's partnership with Syria, has long viewed its relationship with Damascus as a cornerstone of its Middle East policy. Initially rooted in the Soviet Union's support for Syrian independence from French rule, their relationship expanded during the Cold War. The Soviet Union's investment in Syria was manifested through military, economic, and technical assistance, which helped to strengthen the Syrian government's position both domestically and regionally.
During the Cold War, this relationship was characterized by significant arms deals, military training, and economic aid, which were pivotal in establishing Syria as a key Soviet ally in the Middle East. The Soviet support contributed to Syria's military buildup and its capacity to exert influence within the Arab world. This period also saw cultural and educational exchanges, with many Syrians studying in the Soviet Union, thereby fostering a cadre of Syrians with a deep understanding of and affinity for Soviet society and policy.
A pivotal moment was the establishment of a Soviet naval base in Tartus in 1971, underlining the strategic military alliance between the two countries. This was further reinforced by the 1980 Treaty of Friendship and Cooperation, which remains the foundation of their bilateral relations, to this day, facilitating military cooperation as well as political dialogue on international issues.
Russia's intervention in the civil war in 2015 has proven a decisive factor in tipping the balance of the war in favor of President Bashar al-Assad. Russia's military support has been central to strengthening their bilateral alliance, as well as allowed Russia to maintain its strategic foothold in the Middle East.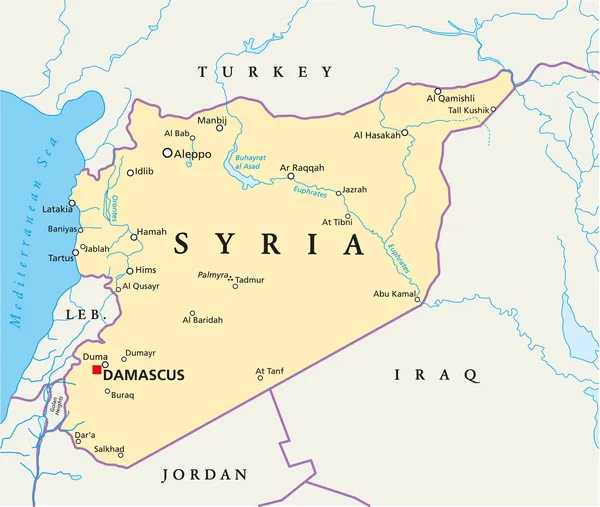 Current Trade and Investment Dynamics
After growing threefold in 2021, trade volumes grew by an additional 7% in 2022. This growth was underscored by Alexander Yefimov, the Russian Ambassador to Syria, indicating an intensification of economic relations despite external political and economic pressures.
Russia's exports to Syria were valued at $594.44 million during 2021. Even though no detailed information is available for 2022, in previous years the main export items to Syria included wheat, steel, iron, seed oils, industrial vehicles, air pumps, pharmaceutical products, sawn wood, printed products, optical instruments, industrial and electronic equipment amongst a range of other items of lesser volume.
On the Syrian side, while no specific data is available, the country's main export items included minerals, chemicals, natural calcium phosphates, olives, cotton, nuts, seeds, spices, vegetables, fruits and berries.
During the past years, there have been large-scale projects, particularly in critical infrastructure, including the reconstruction of the port of Tartous, the modernization of a fertilizer production plant in Homs, and the restoration of several oil and gas fields and treatment institutions. The burgeoning relationship between Russia and Syria was further evidenced by the meeting between Syrian President Bashar al-Assad and Russian President Vladimir Putin in March 2023, signifying a move towards a new phase in economic relations.
Russia has earmarked a further 40 investment projects within Syria, aimed at sectors that are pivotal for the country's reconstruction. These sectors include energy, which encompasses both electricity and oil, transportation infrastructure, housing, and industrial development. These projects are not only earmarked for investment but are also accompanied by mechanisms for monitoring and ensuring the success of the initiatives.
Such investments are part of Russia's broader strategic objectives as outlined in its 2023 Foreign Policy Concept, which includes leveraging its relationships within the Middle East to create an expansive economic network. This strategy aims to mitigate the effects of Western sanctions by fostering economic resilience and diversification through enhanced regional cooperation.
Last month, Russia and Syria have signed a memorandum to bolster cooperation in the pharmaceutical and medical sectors. This collaboration will focus on the development, manufacturing, and supply of drugs and medical products. The partnership will include joint scientific research for new pharmaceuticals, enhancing drug accessibility, and executing joint investment ventures in drug manufacturing. The Russian Ministry of Health emphasizes that this memorandum is expected to strengthen bilateral relations and foster mutually beneficial, long-term, and stable cooperation in the healthcare field.
Moving forward, the nature of Russia's engagement with Syria is expected to increase alongside the opportunities emerging from Syria's extensive reconstruction efforts. The costs are immense, with the United Nations estimating the restauration of Syria will take from 10 to 15 years and will require at least $400 billion. This will open up further opportunities for investment in sectors including energy, infrastructure, and reconstruction. However, this is not without risks given more than one third of the country's territory remains outside of the government's control, as well as persistent, ongoing sanctions.
Balancing Regional Powers
Russia's involvement in Syria also requires it to balance complex relationships with other regional powers, such as Turkey and Iran. Both countries have vested interests in Syria, and Russia will need to navigate these interests carefully. For instance, Russia and Turkey have coordinated de-escalation zones in Syria despite supporting opposing sides in the conflict.
Iran's partnership with Russia in supporting the Assad regime has been a significant factor in the Syrian conflict. However, there have been instances of competition over economic influence in Syria, particularly in sectors like telecommunications and energy.
The sanctions imposed on Syria, particularly by the US and the EU, have a profound impact on the trade and investment dynamics. The Caesar Syria Civilian Protection Act, passed by the US in December 2019, exemplifies the stringent measures targeting Syria's economy. These sanctions not only limit Syria's ability to engage in international trade but also affect Russian entities doing business in Syria.
The potential normalization of relations between Arab states and Syria presents both opportunities and challenges for Russian interests. The Arab League's stance on Syria, as well as individual countries' decisions to reopen embassies in Damascus, could pave the way for increased Arab investment in Syria, potentially competing with Russian commercial and strategic interests.
In conclusion, Russia's active role in Syrian reconstruction, its reintegration efforts within the Middle East, and its pivot towards non-Western economic partnerships amidst Western sanctions, are components of a larger scheme to enhance its global trade footprint. The unfolding of these dynamics will be critical to monitor, as they will have significant implications for regional stability, global trade flows, and the broader geopolitical landscape.
Related Reading
About Us
Middle East Briefing is produced by Dezan Shira & Associates. We provide foreign investment market intelligence about doing business in the region as well as provide updates on investments into Asia for Middle eastern based international companies from our offices in Dubai. Our firm was established in 1992 and has 28 offices and several hundred research, legal, tax and compliance professionals in our offices through the Asian region.
For assistance with establishing business in the Middle East, or for assistance in analyzing and entering markets elsewhere in Asia, please contact us at dubai@dezshira.com or visit us at www.dezshira.com.