GCC & Central Asian Finance Ministers Meet In Riyadh
New Middle East – Central Asia "C5" Bloc In The Process Of Being Established 
It's an important week in the Middle East this week as a major political conference is held; with Thursday and Friday (September 15/16) seeing the Shanghai Cooperation Organisation Heads of State coming together in Samarkand, Uzbekistan. That will include the first meetings of China President Xi and Russia's President Putin since the commencement of the Ukraine conflict, while several Middle East countries leaders are also attending. Major developments concerning the Middle Eastern bloc are expected at that, with Iran to be elevated as a full member, alongside China, India, Kazakhstan, Kyrgyzstan, Pakistan, Russia, Tajikistan and Uzbekistan.
Egypt, Qatar and Saudi Arabia are expected to be formally introduced as dialogue partners with a view to later full membership, while Turkiye's position as a dialogue partner may also be promoted to observer status. We cover the SCO meeting in more detail here.

Preceding that however last week (September 7) was the Foreign Ministers of the Gulf Cooperation Council and Central Asian countries, who held a joint ministerial meeting of the strategic dialogue between the Gulf and Central Asian countries at the General Secretariat in Riyadh, Saudi Arabia. It was headed by Saudi Foreign Minister Prince Faisal bin Farhan, who is also the chairman of the current session of the GCC's Ministerial Council.
The meetings aims were to discuss areas of strengthening strategic relations and joint cooperation between the two sides to achieve stability, security, peace and friendship and serve common interests in the political, economic and cultural fields, and to establish a new stage to push relations into broader areas, in implementation of the directives of the leaders of the GCC countries to strengthen and consolidate the bloc's position regionally and internationally as a model for security, stability and development.
These discussions and outcomes are part of the re-emergence of a new world order as strategic partnerships are shifting east instead of West, an issue accelerated by the belief that a hegemonic West exists and the geopolitical repercussions of the situation between the EU and Russia, and especially the repositioning of energy and food supply chains.
The event marked the first multilateral meeting between the GCC bloc and Central Asia. Although the latter is not yet a formal grouping, it is known informally as the "C5" and a regional identity is emerging. The ministers agreed on the relevance of the principles, goals and priorities set out in the Concept of Interaction of Central Asian countries within the framework of multilateral formats, which was adopted by the heads of state of the Central Asian countries in Cholpon-Ata, Kyrgyzstan, in July. That statement was an important development for the idea of a Central Asian identity, setting the parameters for engagement with the outside world.
There was clear enthusiasm at the inaugural GCC-Central Asia meeting, as the ministers and senior officials welcomed the new engagement, citing common values, mutual interests and deep historical ties. They expressed a firm commitment to forge a "strong, ambitious and forward-looking partnership," and "multifaceted cooperation at bilateral and multilateral levels."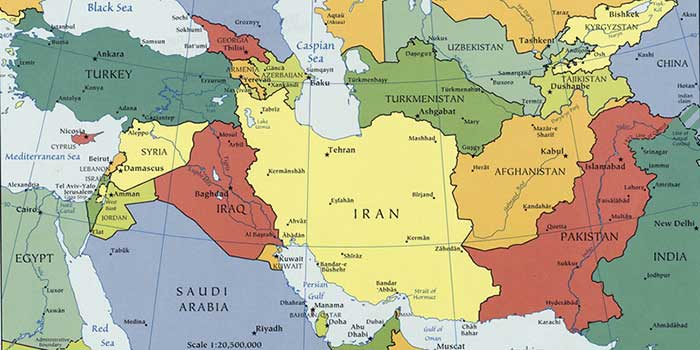 As part of the new strategic dialogue, the ministers exchanged views on a wide range of regional and international developments, including Afghanistan and combating terrorism, two issues in which the two regions are keenly interested. They agreed to regularly coordinate their positions on existing and emerging issues.
As a landlocked region, Central Asia is in need of secure transportation links, which have frayed recently as a result of COVID-19. As such, the ministers emphasized their commitment to working together to ensure the resiliency of supply chains and to "bolster global economic recovery efforts, address economic repercussions caused by the COVID-19 pandemic." They expressed interest in transport-transit connectivity as it relates to food, energy and water security. They also called for the development of green energy sources and technologies and for environmental challenges and climate change to be addressed.
To map out the way forward, the ministers endorsed an indicative Joint Action Plan for Strategic Dialogue and Cooperation for the period 2023-2027, including political and security dialogue, economic and investment cooperation, enhancing people-to-people contacts, and developing effective partnerships between business sectors. It was agreed to fast-track the plan and take all necessary measures for its proper implementation at both the bilateral and multilateral levels.
At Wednesday's meeting, the ministers welcomed Kazakhstan's invitation to host the first GCC-Central Asian Economic Forum, to be held in 2023. They also accepted Uzbekistan's invitation to host the second ministerial meeting of the GCC-Central Asian Strategic Dialogue in Samarkand in 2023.
The intent appears to be there for this new engagement between the GCC region and Central Asia. There is an obvious political commitment. There also appears to be clear determination for this effort to move on a fast track. The economic and security challenges the two regions are facing need collaborative efforts.
At the same time, the potential benefits of such cooperation could be immense. Combined, the two regions are home to a young population of about 130 million, who are in search of quality education and training. In the two regions, there are countries that are among the world's most resource-rich in conventional energy, especially oil and gas. They also aspire to be leaders in renewable energies.
The GCC and Central Asia could contribute significantly to energy security globally. Their energy cooperation could be one of the quick wins in their new strategic dialogue, starting with policy coordination and the sharing of knowledge and best practices.
The challenges facing such long-distance strategic engagement are, however, equally huge, especially in terms of infrastructure and energy projects. First, there is a need to energize investors in both regions, which requires educating them about the new opportunities and business environment. Second, it is important to explore the possibility of investment triangulation, by bringing third-party investors with the capital and expertise needed for large energy and infrastructure projects, both conventional and renewable. Third, public-private partnership is needed to sustain these efforts. One of the most formidable challenges is addressing Central Asia's need for transport-transit connectivity to other regions, such as the GCC countries.
We will keep Middle East Briefing readers updated on the C5 and the emerging relations between the GCC and Central Asia as supply chains and investments begin to include both as strategic paths between East and West.
Related Reading
About Us
Middle East Briefing is produced by Dezan Shira & Associates. We provide foreign investment market intelligence about doing business in the region as well as provide updates on investments into Asia for Middle eastern based international companies from our offices in Dubai. Our firm was established in 1992 and has 28 offices and several hundred research, legal, tax and compliance professionals in our offices through the Asian region.
For assistance with establishing business in the Middle East, or for assistance in analyzing and entering markets elsewhere in Asia, please contact us at dubai@dezshira.com or visit us at www.dezshira.com.