Iran Developing As A Regional Freight Rail Hub
The Iranian Ministry of Roads and Urban Development has stated that 1.34 million tons of cargo  transited through Iran's railway lines, during the first 11 months of the last Iranian year (March 21, 2022 through February 19, 2023), implying an annual volume of about 1.46 million tons exported from Iran to other markets.
In total, 41 million tons of cargo were transported through railways in Iran. The most volume of cargo transportation was recorded in Iran's Central Yazd Province (11 million tons), which acts as a national rail and distribution hub. The least volume was recorded in Iran's Lorestan Province (128,000 tons), a mountainous Western region.
Iran's total rail freight compares with neighboring Pakistan at about 8 million ton and Saudi Arabia at about 14 million tons, indicating Iran's rail sector is operating well. It will receive an additional boost when the INSTC network becomes fully operational later this year.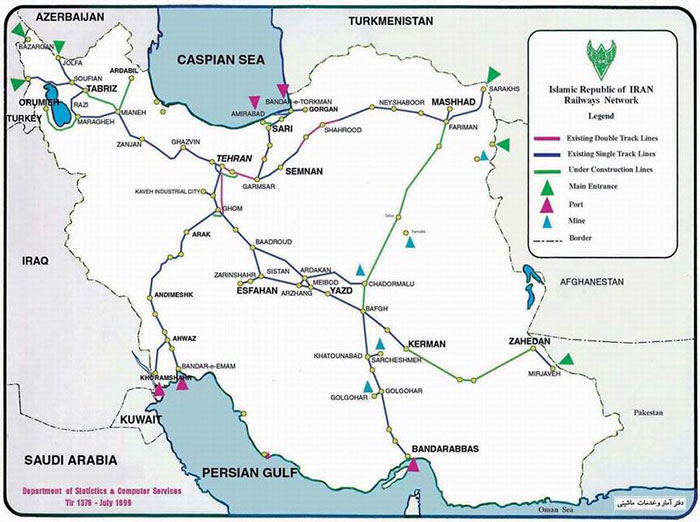 Most transit cargo travelled through Iran's Sarakhs railway line on the border with Turkmenistan, with nearly 50% of the total, being some 737,000 tons of cargo transiting through this route.
The least amount of cargo for 11 months was transited through Iran's Mirjaveh railway line on the border with Pakistan, amounting to 863 tons.
The 11-month period saw 27 million passengers transported by Iran rail, an increase of 42% over the previous year. Of these, Tehran Province accounted for 9 million people.
Currently, 978 locomotives, 29,305 freight wagons and 2,153 passenger wagons are in operation on Iran's railways.
Related Reading
About Us
Middle East Briefing is produced by Dezan Shira & Associates. We provide foreign investment market intelligence about doing business in the region as well as provide updates on investments into Asia for Middle eastern based international companies from our offices in Dubai. Our firm was established in 1992 and has 28 offices and several hundred research, legal, tax and compliance professionals in our offices through the Asian region.
For assistance with establishing business in the Middle East, or for assistance in analyzing and entering markets elsewhere in Asia, please contact us at dubai@dezshira.com or visit us at www.dezshira.com.