Saudi Arabia Confirms It Has Joined The Shanghai Co-operation Organisation
In another twist in the developing geopolitical evolution of East vs. West, Saudi Arabia has approved a decision to join the Shanghai Cooperation Organisation (SCO), a political and security union of countries spanning much of Eurasia, including China, India and Russia.
The decision by the Saudi cabinet follows years of close energy co-operation between the two countries, with China far overtaking the United States as the main importer of Saudi Arabian oil, buying about 1.75 million barrels of oil per day over the past year. Only Russia exports more oil to China.
By contrast, US imports of Saudi Arabian oil dropped below 500,000 barrels per day last year. As recently as 2016, American oil imports from the kingdom frequently topped one million barrels per day.
China has also been investing heavily in Saudi Arabia's oil industry, with Saudi Aramco raising its multibillion-dollar investment in China on Tuesday, by finalising a planned joint venture in north-east China and acquiring a stake in a privately controlled petrochemical group.
The SCO was formed in 2001 by Russia, China, and former Soviet states in Central Asia, and has since expanded to include India and Pakistan. The organisation's goal is to promote regional stability and counter western influence in the region.
Iran signed documents for full membership in 2022, and Saudi Arabia has been granted the status of a dialogue partner, which is a first step towards full membership.
Joining the SCO is part of Saudi Arabia's efforts to build a long-term partnership with China, its largest trading partner. In recent years, the two countries have increased economic co-operation, with Saudi Arabia seeking to diversify its economy away from oil and gas by investing in Chinese technology and infrastructure projects.
In August this year, SCO countries plan to hold a joint "counter-terrorism exercise" in Russia's Chelyabinsk region. The exercise is part of the SCO's efforts to promote regional security and co-operation.
Numerous other countries are also involved in negotiating different levels of membership with the SCO.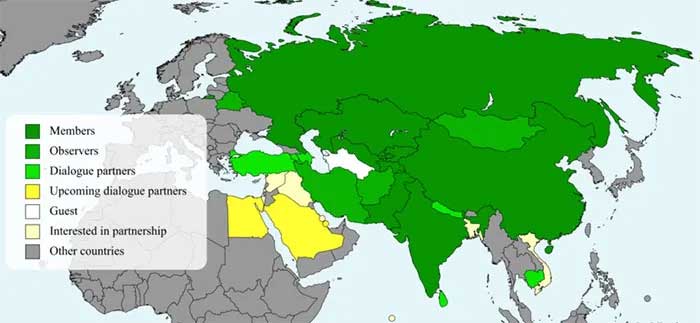 Meanwhile, the SCO itself is evolving, with discussions being held last week in Moscow concerning forming an alliance between the SCO and the Eurasian Economic Union, Commonwealth of Independent States and the BRICS, the latter of which Saudi Arabia has also applied to join.
Related Reading
About Us
Middle East Briefing is produced by Dezan Shira & Associates. We provide foreign investment market intelligence about doing business in the region as well as provide updates on investments into Asia for Middle eastern based international companies from our offices in Dubai. Our firm was established in 1992 and has 28 offices and several hundred research, legal, tax and compliance professionals in our offices through the Asian region.
For assistance with establishing business in the Middle East, or for assistance in analyzing and entering markets elsewhere in Asia, please contact us at dubai@dezshira.com or visit us at www.dezshira.com.