Iran's Southern Bandar Lengeh Port Cargo Volumes Up 44.6% YoY
The cargo volumes of loaded and unloaded goods at the Bandar Lengeh port of the Southern Iran increased by 44.6% in the period August 23 through September 22, 2022, compared to the same month in the last Iranian year, according to statistics of the Iranian Ports and Maritime Organization (PMO). Iran measures its calendar months in a different manner to that in the West.
According to the statistics, about 240,000 tons of cargo were loaded and unloaded in this port during this timeframe, of which 167,000 tons of cargo were loaded and 72,500 tons were unloaded. About 159,000 tons of cargo were exported and about 8,330 tons were imported through the Bandar Lengeh port.
2,020 tons of cargo were loaded and 31,600 tons were unloaded in this port for transit. Also, 6,470 tons of cargo were loaded and 156 tons were unloaded for cabotage during the reporting period. A further 32,400 tons of cargo were unloaded in this port for other purposes, while 117,000 tons of essential products, 56 tons of metal products, 55,600 tons of construction and mining materials, 32,700 tons of equipment, vehicles and spare parts and 917 tons of chemicals were loaded and unloaded.
Other commodities included 711 tons of leather goods, clothing, fibers, paper and wood materials, 31 tons of small and assorted products, 32,500 tons of container products and 613 tons of crude oil and related products.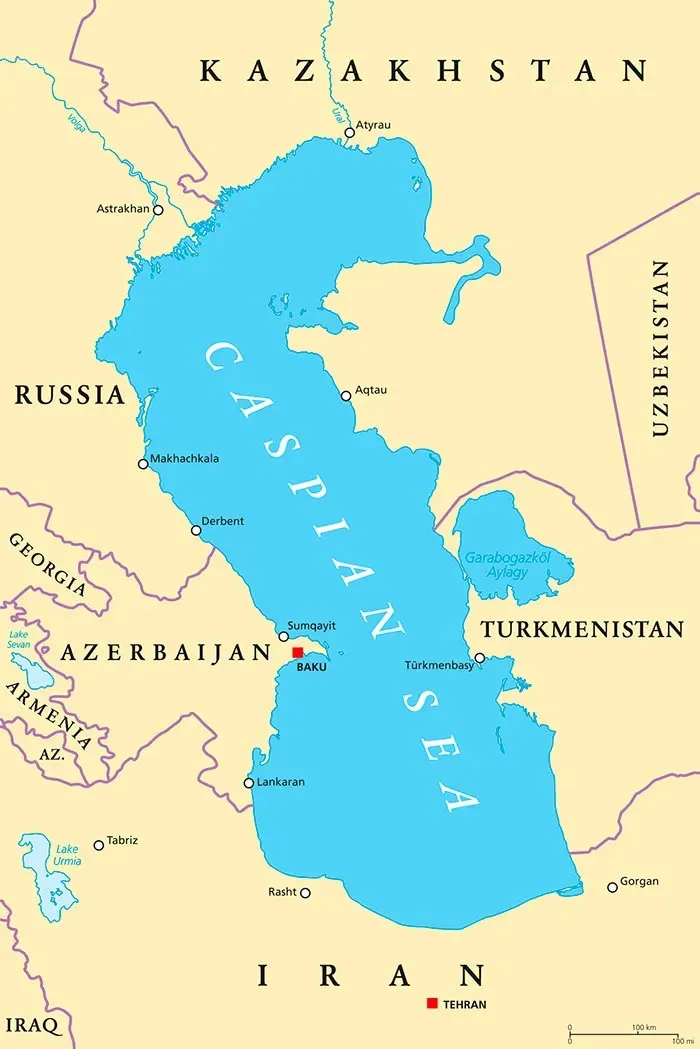 Overall, about 13.6 million tons of cargo were loaded and unloaded in Iranian ports during this period, an increase of 6% over the timeframe and illustrating the fast growth in Iran's Persian Gulf facilities.
The statistics are important as they underline the increasing importance of the INSTC, which bisects Iran from South to North and operates as a faster, cheaper alternative to the Suez Canal. The INSTC as a supply chain was conceived by India, Iran and Russia to improve trade between them. It is developing into one of the most important routes linking South Asia to Europe, and especially so since the beginning of the Ukraine conflict. It has also highlighted the importance of the Caspian Sea nations as conduits for trade under changing geopolitical times. Azerbaijan, Russia, Kazakhstan, Turkmenistan and Iran all have massively developing Caspian Sea Ports, with the Middle Corridor passing from the EU via Turkiye and Azerbaijan's Baku Port through Kazakhstan to China of special interest. This will increase further once the INSTC rail line is completed later in 2023.
Russia's trade with India has also increased this year. Iran and the INSTC are becoming vital component parts of Eurasian trade, while EU supply chains to Azerbaijan are becoming essential for energy supplies coming in from Azerbaijan itself, Turkiye, Kazakhstan, Turkmenistan, and India.
Related Reading
About Us
Middle East Briefing is produced by Dezan Shira & Associates. We provide foreign investment market intelligence about doing business in the region as well as provide updates on investments into Asia for Middle eastern based international companies from our offices in Dubai. Our firm was established in 1992 and has 28 offices and several hundred research, legal, tax and compliance professionals in our offices through the Asian region.
For assistance with establishing business in the Middle East, or for assistance in analyzing and entering markets elsewhere in Asia, please contact us at dubai@dezshira.com or visit us at www.dezshira.com.