Turkiye's Exports Have Reached the Highest Export Levels in the Country's History
By Selin Ural, Kulat Law Office, Istanbul
Turkiye's Ministry of Trade has announced its foreign trade statistics for September 2022. According to the data, exports increased by 9.2% in September compared to the relevant month in 2021, reaching US$22.62 billion. This amount is the countries highest ever September export figure. Imports also increased by 41.5% in the same period and reached US$33 billion.
Foreign trade also increased by 26.3% and reached US55.6 billion. The foreign trade deficit was calculated as US$10.3 billion, an increase of 298.3%, meaning the export-import coverage ratio was 68.5%
Excluding energy data, the export-import coverage ratio decreased by 16.5 points to 89.2% from January to September, while Turkiye's trade deficit widened by 158.5 % to US$83.82 billion. Trade Minister Mr. Mehmet Mus said in comments concerning the data that energy imports constituted around a third of total imports in the first nine months of the year.
Foreign Trade
Export
Import
Foreign Trade Volume
Balance Of Foreign Trade
Exp./Imp. Ratio
September
2021
20.716
23.322
44.038
-2.607
88,8
2022
22.616
33.000
55.616
-10.384
68,5
Rate Of Change
9,2
41,5
26,3
298,3
–
January- September
2021
160.812
193.235
354.047
-32.423
83,2
2022
188.224
272.043
460.267
-83.819
69,2
Rate Of Change
17,1
40,8
30,0
158,5
–
Chart 1: Foreign Trade Data (Million Dollars)
According to the Minister of Trade Mr. Mehmet Muş; "With the effect of high energy prices, Turkey's imports in September reached US$33 billion. Gold imports are also increasing rapidly. In the 9 months this year, gold imports rose to US$12.1 billion. The import coverage ratio of exports excluding energy and gold exceeds 100%."
The TIM (Turkish Exporters Assembly) President Mustafa Gultepe pointed out that the total exports of Turkey exceeded US252 billion dollars in the last 12 months and said "Turkiye has been breaking export records for the past 12 months. Last month, 15 of our sectors increased their exports, while chemicals kept their place in first place with US$2.9 billion of exports due to the developments in the global markets. Automotive exports took second place with US$2.7 billion, and the garment industry took third place with US$1.9 billion dollars. In September, our cereals, machinery, and fresh fruit and vegetable products sectors realized the highest exports in their history. Last month, 1,942 Turkish companies joined our export family. These new to export SMEs exported US$114 million worth of goods."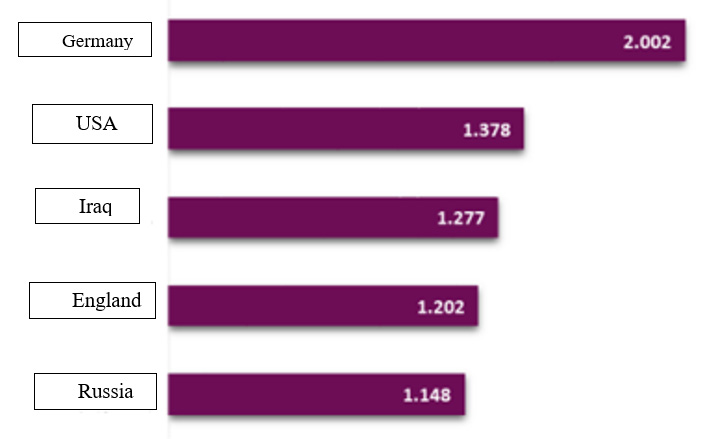 Chart 2: Top 5 Export Countries (Million Dollars, September 2022)
The countries with the highest exports in September were Germany with US$2.2 billion (18.2% increase), the United States with US$1.378 billion (0.7% decrease), and Iraq with US$1. 277 billion dollars (24.3% increase).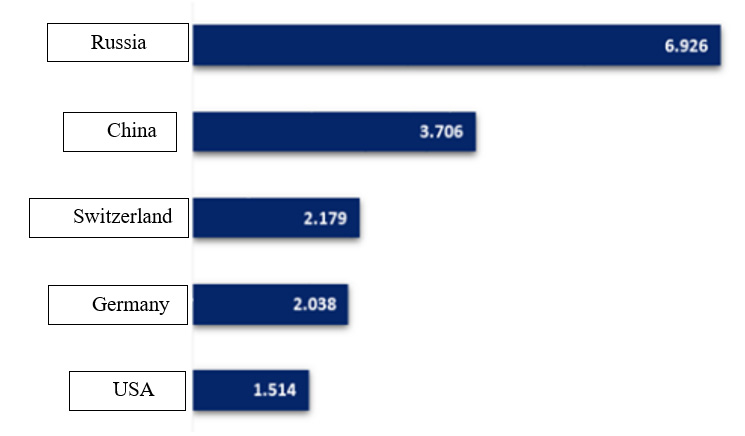 Chart 3: Top 5 Imported Countries (Million Dollars, September 2022)
The countries with the highest imports in September were Russia with US$6.926 billion (up 186.7%), China with US$3. 706 billion (an increase of 28%) and Switzerland with US$2.179 billion dollars (an increase of 764.2%).
If we take into account all of these factors, we can see that the trade volume is growing with Turkey's changing diplomacy policy and competitive exchange rate. In particular, with Turkey's mediator role in the Russia-Ukraine conflict, its trade links with Russia hasn't broken and its trade volume with Europe expanded. Turkey has created a safe food route with the Grain Corridor Agreement, and is currently acting as a bridge between Europe and Asia in trade. With its competitive exchange rate, low labor costs and proximity to major markets, Turkey is a tremendous option for foreign investors. The increasing of the national foreign trade volume shows that Turkiye is a growing and developing actor in world trade.
Selin Ural is a commercial lawyer with the Kulat Law Office in Istanbul and are a Dezan Shira & Associates partner firm in the Middle East. For assistance with business issues in Turkiye, please contact: turkiye@dezshira.com   
Related Reading
About Us
Middle East Briefing is produced by Dezan Shira & Associates. We provide foreign investment market intelligence about doing business in the region as well as provide updates on investments into Asia for Middle eastern based international companies from our offices in Dubai. Our firm was established in 1992 and has 28 offices and several hundred research, legal, tax and compliance professionals in our offices through the Asian region.
For assistance with establishing business in the Middle East, or for assistance in analyzing and entering markets elsewhere in Asia, please contact us at dubai@dezshira.com or visit us at www.dezshira.com.