Opportunities for Saudi Exporters in Indonesia
Indonesia's RCEP and ASEAN memberships can help Saudi exporters reach 500 million Islamic consumers 
Saudi Arabia and Indonesia have had historical trade and diplomatic relations for centuries and are now focused on increasing bilateral trade in the modern era. Saudi Arabia is Indonesia's largest trade partner in the Middle East and is seeking to increase its investments in Indonesia in a number of sectors, such as upstream and downstream commodities and electric vehicle battery production.
Although official diplomatic relations between Saudi Arabia and Indonesia began in 1950, historical links between the two regions began centuries ago through Islam. Further, as the country with the largest Muslim population in the world, Indonesia is given the largest quota for Hajj pilgrims (more than 212,000) than any other country every Hajj season.
Saudi Arabia is Indonesia's largest trade partner in the Middle East with bilateral trade reaching some US$5.5 billion in 2021, an increase of 40% from the previous year. The trade balance is heavily in favor of Saudi Arabia with the main export being oil and its products, which amounted to over US$3 billion in 2021.
Under the leadership of Saudi Arabia's King Salman bin Abdulaziz and Indonesia's President Joko Widodo, both countries are eager to increase trade and investments, particularly in Indonesia's downstream industries. The King last visited Indonesia in 2017, bringing a 1,500-member entourage; a slew of MoUs was signed in areas such as trade, education, defense, civil aviation, securities, science and technology, pilgrimage, and healthcare.
On the security front, Saudi Arabia and Indonesia signed a defense cooperation agreement in 2014, which was the first of its kind between the two and the first of its kind for Indonesia and a country in the Middle East.
Investment Opportunities for Saudi businesses in Indonesia
Oil still dominates trade 
Oil still dominates trade between the two countries, with Saudi Arabia being Indonesia's largest supplier of crude oil and its products. In 2019, some 40% of Indonesia's crude oil imports were from Saudi Arabia.
Indonesia's oil fields have been in a state of decline due to aging oil fields coupled with a lack of investments in exploration and production. The country imports the equivalent of 400,000 barrels of oil per day, making it the 19th largest importer of refined petroleum in the world. Indonesia has invited the Saudis to invest in several downstream oil projects namely for refineries.
Renewable energy 
There are also opportunities for Saudi investors in Indonesia's renewable energy sector. Indonesia's location in the 'ring of fire' has resulted in having some 42% of the world's geothermal energy stores, and its vast maritime area can generate 75,000 MW of power. In total, Indonesia has the potential to generate over 700,000 MW of energy from renewable resources like geothermal, wind, tidal, and solar.
Electric batteries 
A meeting between Indonesia's Coordinating Minister for Maritime Affairs Luhut Binsar Pandjaitan and Saudi Crown Prince Muhammad bin Salman in March 2022 revealed that Saudi Arabia was interested in investing in Indonesia's electric battery industry. Indonesia is set to build its first electric vehicle (EV) battery plant and aims to begin production by 2023.
Indonesia wants to increase production to reach a battery capacity of 140 GWh by 2030 from which 50 GWh will be allocated for export. The remainder will be used for Indonesia's domestic electric vehicle industry — mainly for motorbikes rather than cars. With Indonesia looking to boost investment in its EV battery sector to US$33 billion by 2033, the country presents ample opportunities for foreign EV manufacturers.
A key material in the production of electric vehicle batteries is nickel, and Indonesia has one of the world's largest reserves for these commodities.
Indonesia accounted for roughly 30% of the world's nickel production and is home to 22% of the world's known nickel reserves.
Capital city investments
Indonesia has also sought Saudi investments for the development of its new capital city, in East Kalimantan province. The new city, set to be called Nusantara (Archipelago), will cost an estimated US$32 billion to build with Saudi Arabia willing to commit its investment through Indonesia's newly established US$10 billion sovereign wealth fund.
The government will transform the new capital into a low-carbon superhub that will support healthcare and technology sectors as well as promote sustainable growth beyond the island of Java.
Nusantara will require soft and hard infrastructure, such as for the development of urban utilities, toll manufacturing, seaports and airports, and network and communications, among others.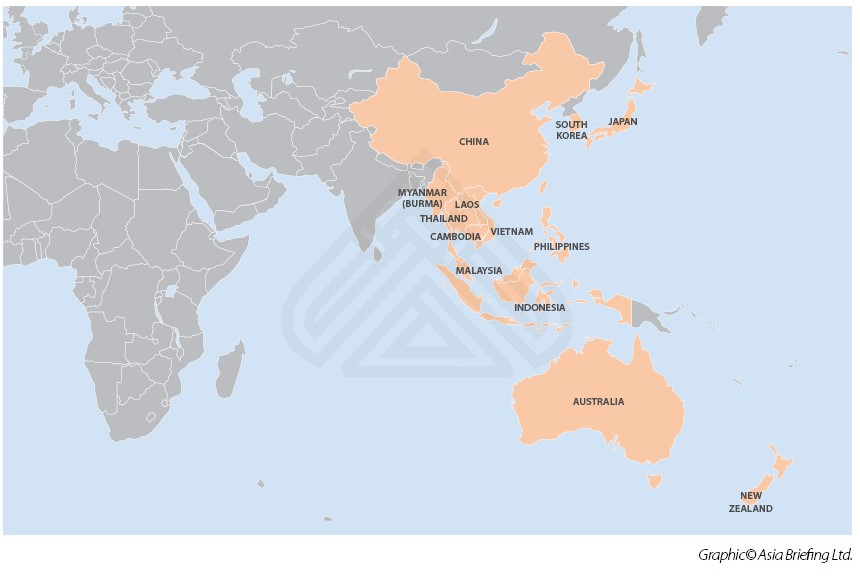 Indonesia's access to the RCEP
On August 30, 2022, Indonesia's parliament approved the country's membership in the Regional Comprehensive Economic Partnership (RCEP) trade pact and became the latest country in ASEAN to join in what is the world's largest free trade agreement. The RCEP agreement includes Australia, New Zealand, China, Japan, South Korea and all ten of the ASEAN members – Brunei, Cambodia, Indonesia, Laos, Malaysia, Myanmar, the Philippines, Singapore, Thailand and Vietnam.
Through Indonesia, Saudi investors can access this vast market, which is estimated to cover 30% of the global GDP (about US$25.8 trillion) and 28% of the world's population.
Further, the RCEP presents ample opportunities for Saudi businesses to better integrate into regional value chains and attract investments. This is especially true as the other members of RCEP also have significant Muslim populations – including Brunei, China, Malaysia, the Philippines and Thailand. ASEAN, which Indonesia is also a member of, has a Free Trade Agreement with India, which has a Muslim population estimated at just under 200 million. Using Indonesia as a gateway for exporting Halal products to a combined Muslim consumer market of 500 million in South Asia provides excellent opportunities for Saudi exporters.
Our firm, Dezan Shira & Associates, has offices in Indonesia as well as much of South Asia and India. We provide assistance to international businesses looking to invest in the region, and provide market intelligence, legal and tax advisory services. Please contact us at asia@dezshira.com for assistance.
Our 'Doing Business In Indonesia 2022' guide can be downloaded on a complimentary basis here.
Related Reading
About Us
Middle East Briefing is produced by Dezan Shira & Associates. We provide foreign investment market intelligence about doing business in the region as well as provide updates on investments into Asia for Middle eastern based international companies from our offices in Dubai. Our firm was established in 1992 and has 28 offices and several hundred research, legal, tax and compliance professionals in our offices through the Asian region.
For assistance with establishing business in the Middle East, or for assistance in analyzing and entering markets elsewhere in Asia, please contact us at dubai@dezshira.com or visit us at www.dezshira.com.