The UAE – 2022-2024 Foreign Investment Trends – Exclusive Data
New complimentary UAE economic report to be published  
The UAE has provided spectacular economic developments across multiple sectors over the past two years. With a new Middle East and UAE issue of Asia Investment Research (AIR) to be released next week, it is of specific note that in the following areas, the UAE has shown significant growth:
Foreign Investment
In 2022, the UAE achieved its highest FDI inflows in history, reaching AED 84 billion (US$23 billion), representing 10% growth from 2021, despite a 12% decline in global FDI.
Infrastructure
The launch of freight, the pending launch of passenger service and longer-term links to Oman via  Ethiad Rail are all ground-breaking developments. The opening of the new air terminal, the opening of the UAE's 3rd largest desalination plant, climbing the rankings in regional and global health care, and plans to increase the size of the rapidly growing digital economy and the launch of four major tourism businesses are all key projects.
Green Energy Transition
In the new issue of AIR, we update 2022-2024 progress on solar, hydropower and waste to energy; two of these represent the world's largest by segment.
Stock Exchanges
There is growing global recognition- In 2022, the ADX was the best-performing market in the GCC for a 2nd consecutive year with an increase of 61.4% in its market cap, led by an IPO boom. On 13th July 2023, DFM reached its highest point since August 2015. DFM was up nearly 20% on the year in July 2023, far surpassing MSCI World Index's 12.6% increase. We also note studies by Goldman and Morgan Stanley on global reweighting to come to this region.
M&A
According to the EY MENA M&A Insights 2022 report, the MENA region saw unprecedented M&A deal volume with 754 announced deals, a 13% volume increase over 2021 levels; aggregate amounts were US$82.5 billion. The UAE also saw 4 of MENA's largest announced M&A deals.
Venture Capital
As the global investment community has learned, the UAE has done an outstanding job of building a world class VC ecosystem. While 2022 and H1 were affected by global downturns in seed and pre-seed, VC M&A/consolidation started in 2022 and increased throughout 2023- attracting capital from investors across many geographies – in particular in fintech, e-commerce and health tech.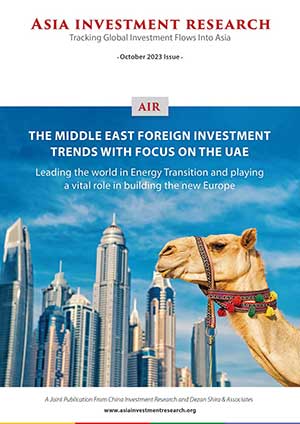 To obtain a complimentary copy of Asia Investment Research's latest report, The Middle East Foreign Investment Trends With A Focus On The UAE please subscribe to Middle East Briefing here.